Fine Art Drawings By J. B. Sullivan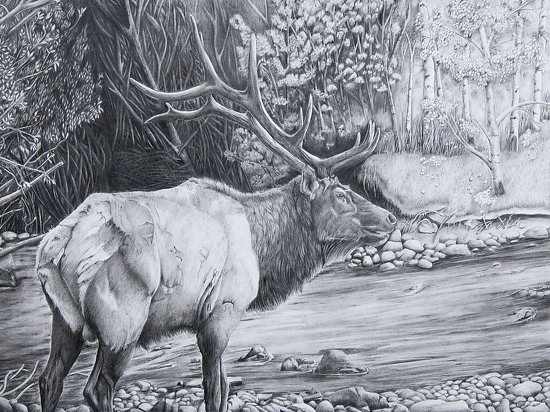 Exquisite pencil drawings by J. B. Sullivan bring forth a chuckle, a smile, or nod of personal association with the subject. Wildlife and animals of all kinds tell their story through his work. Equally stunning, Sullivan's portraits capture people at a special moment in time.

Graphite, Sullivan's primary medium, requires mastering various pencil leads and devoting endless hours to detailed pencil strokes. With only two colors, black and white, tonal variety is created with different strokes, the occasional application of charcoal, and careful use of white space.

A man of many interests and talents, Sullivan spends hundreds of hours on each work to create his highly detailed, representative style of wide appeal. See for yourself by viewing the online portfolio at Art Works.

Want to see the art in person? "Wilderness Drawings," a solo exhibition continues in various venues across Colorado. In the summer, you can visit many Colorado outdoor art festivals to meet the artist in person and see the latest works. Click Events for locations and schedules.

Searching for the gift of a life time? J.B. Sullivan's commission work includes not only family members but also pets and wildlife. View examples by clicking the commissions tab. Send your commission request or questions to Contact Artist

Now you can read the stories behind the art via J.B. Sullivan's Newsletter. Sign up for the newsletter by clicking the newsletter link to follow new works and and events.
May art be part of your life every day!